Unified cybersecurity management and awareness in-cloud
XM Cyber's partnership with Okta enables CISOs to better manage their cybersecurity ecosystem. They receive alerts from XM Cyber's Continuous Controls Monitoring platform on the key aspects and issues in Okta such as configuration, incident and investigation management, access control, password policies, user and role administration and more. This joint effort helps enterprises manage their cybersecurity environment and continuously monitor their cybersecurity ecosystem posture.
The integration between XM Cyber and Okta offers CxOs powerful and effective resilience visibility along with
compliance validation and controls, to secure and monitor Okta in an unprecedented manner.
XM Cyber's Continuous Controls Monitoring platform deploys to the corporate network automatically, in a matter of a few hours, predefined with security domains and CSC measurements to deliver three unique cybersecurity ecosystem views:
First, it provides organizations with the best indicators of the cybersecurity tools that may be misconfigured, malfunctioning, or missing and should be added to provide complete cybersecurity protection.
It then reveals the security gaps that exist in each security domain and delivers continuous proactive recommendations to close these gaps.
Finally, XM Cyber's machine learning analytics engine continuously calculates online measurements that represent normal behavior, and then alerts when a deviation from normal behavior is detected.
Key Features & Benefits of Continuous Controls Monitoring
Cyber Hygiene Analysis and Reporting for Managers: Alerts and reporting regarding Okta current configuration implementation status based on vendors' and security standards best-practices, including security configuration issues, incidents and investigations management, admins and roles administration, and more.
Customizable Views and Reports: XM Cyber provides continuous alerts on deviation from normal behavior in terms of Okta implementation and effectiveness as well as continuous monitoring of relevant security issues in near real-time.
Continuous Incident Response: Provides the CISO and other relevant managers in the organization, as well as the Okta technical owners with continuous mitigation recommendations and steps to improve, for securing and monitoring Okta implementation, effectiveness, maturity and resilience from a management perspective in an unprecedented manner.
Customizable Views and Reports: XM Cyber is highly customizable – all views and reports could be modified to the organization's needs and structure. The integration between XM Cyber and Okta offers CxOs powerful effectiveness and resilience visibility, as well as compliance validation and controls.
Fast and Secure Deployment
The XM Cyber Continuous Controls Monitoring connector for Okta receives security and configuration data from the
Okta server via a secure REST API.
Key Use Cases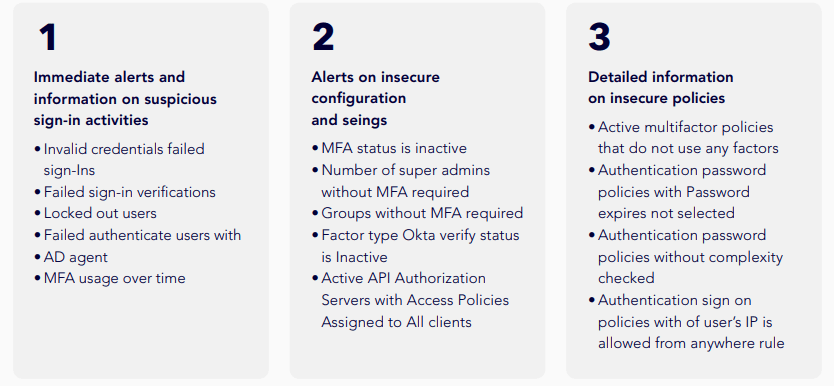 About Okta
Okta (Nasdaq: OKTA) is the leading independent provider of identity for the enterprise. The Okta Identity Cloud enables organizations to securely connect the right people to the right technologies at the right time. With over 7,000 pre-built integrations to applications and infrastructure providers, Okta customers can easily and securely use the best technologies for their business. More than 10,000 organizations, including JetBlue, Nordstrom, Slack, T-Mobile, Takeda, Teach for America and Twilio, trust Okta to help protect the identities of their workforces and customers.