Why XM Cyber
With the rise of digitalization, security is paramount to protecting growing ecosystems. XM Cyber brings an innovative approach to proactively prevent cyber-attacks by modeling how an attacker propagates the network. By discovering critical attack paths across on-premises and multi-cloud networks, it helps organizations cost-effectively close security gaps before systems are compromised.
"We combine a variety of attack techniques – exactly as the hacker would combine them. And we show you all the possibilities, all the potential attack paths, from any breached point to any of your critical assets, across on premises to cloud networks. Now organizations can gain a single, comprehensive and accurate view of their security posture."
Noam Erez
CEO of XM Cyber
"Finding and closing security gaps from an attacker's perspective is a disruptive approach to the way organizations can proactively protect their networks. XM Cyber's solution builds on our strong IT security to further protect our customers, partners, and ourselves as a company."
Christian Müller
Chief Information Officer of Schwarz Group
See all ways you can secure the future
If your organization is like most, you're drowning in siloed data which lacks context of the risk to your critical assets, but you can't see what impacts your risk the most or how they come together to be exploited by an attacker – much less how to efficiently eliminate them. And that's a big disconnect. You can see that you've invested in all the best tools, but you still can't see if your network is secure or not. XM Cyber lets you see all ways.
Continuous risk visibility
Accurate risk prioritization
Cost-effective remediation
Hybrid-cloud attack surface reduction
Security posture score and trends
Meet the leadership
Before co-founding XM Cyber, Noam Erez spent over 25 years with the Israeli Intelligence Community. Mr. Erez brings extensive managerial experience, leading technological and operational divisions, where he planned and executed a growth strategy for cyber capabilities.
Noam Erez
Co-Founder and CEO
From 2011 to 2016, Tamir Pardo served as the Director of the Mossad, the National Intelligence Agency of Israel and one of the main entities in the Israeli Intelligence Community. He joined the organization in 1979, and served through all levels of command before assuming overall leadership in 2011. Mr. Pardo is one of the most respected public figures in Israel and around the world. He is also a Lamont Lecturer at Harvard University.
Tamir Pardo
Co-Founder and President
Boaz Gorodissky is a 30-year veteran of the Israeli Intelligence Community, most recently serving as Head of the Technology. In this role, he re-organized and headed technology divisions, overseeing thousands of engineers and a large-scale budget. Mr. Gorodissky began his career as a software engineer and then founded the first offensive cyber department. Mr. Gorodissky holds a B.Sc. in mathematics and computer science and an M.Sc. in computer science from the university of Tel-Aviv.
Dr. Naama Halevi Davidov is an experienced finance leader, bringing over 25 years of proven track record seeing technology companies through global expansion and scale. Naama holds a CPA (Israel) license, a Ph.D in Strategy from Tel Aviv University and an MBA and  B.A in Accounting and Economics from the Tel Aviv University. Naama servers on the Board of several NASDAQ publicly traded companies and is a mother of four.  
Uri Levy is a seasoned cybersecurity executive with a successful track record in the strategic and operational turnaround of technology and cyber companies. Over the past 15 years, he has built and managed leading network and security solution providers, and consistently achieved sustained growth and brand leadership.
Ronen Segal has over 19 years of experience developing and managing complex software products in multi-disciplinary areas – particularly in the cyber offensive field. He previously served as the CTO of Comigo, where he and his teams developed revolutionary products for the TV industry. Before Comigo, Mr. Segal served for 10 years in the IDF's Elite Intelligence Unit 8200, where he led multiple cyber offensive projects.
Menachem Shafran is a product leader with more than 15 years of experience in product management and cybersecurity. Mr. Shafran has managed complex product ranging from cybersecurity, homeland security, DevOps automation to mobile applications. His strength in creating a product vision,  aligning R&D efforts with sales and marketing has been demonstrated over the years during his tenure at Quali, NowForce, now part of Verint (VRNT), and Radware (RDWR). Prior to his roles in product management, Mr. Shafran served for 5 years in the IDF's Elite Intelligence Unit 8200, where he served both as a researcher and as a team leader. Mr. Shafran holds a B.Sc in mathematics from the Hebrew University and B.Mus in percussion.
Sharron brings over 20 years of global enterprise marketing experience across a wide range of activities including, market analysis and strategy, product launch and messaging, building brand and demand. Prior to XM Cyber, she held various marketing leadership roles at Sisense, Minerva Labs, Verint (Cognyte), Tufin and CyberArk. Sharron graduated from Hebrew University and holds an MBA from Tel Aviv University.
Shay has been a cybersecurity evangelist for more than 15 years, working with customers to continually improve their security.He's currently the VP of Customer Experience at XM Cyber, helping customers continuously reduce their cyber exposures and establish holistic and sustainable exposure remediation programs. Shay leads the Customer Success, Services, Support, Operations, and Technical Enablement teams in XM Cyber.
Kent Rounds is an expert in enterprise technology and Cybersecurity Solutions sales with 20+ years of experience. He has sold to F1000 customers in 38 countries and is known for his ability to win sales in highly competitive markets against long odds. He excels at realigning sales teams, scaling them for growth, and coaching them to rapidly achieve significant and sustained sales. Before XM Cyber, he served as Vice President of Sales Threat Intelligence for Crowdstrike and Senior Vice President Sales at McAfee/Intel. His expertise extends to government sales, both domestic and foreign and his experience includes all major geographies: AMS, APAC, Japan, EMEA, and META.
Stree is a recognized industry leader across Asia Pacific for his deep IT, networking and security knowledge, across both public and private sectors. He has also held executive level positions with other NASDAQ listed companies such as Sun Microsystems, Hyperion, Art Technology Group, Plumtree Software, Brio Software, Tumbleweed, Axway and Radware. Prior to joining XM Cyber, he served as Senior Vice President & General Manager of Anomali where he was responsible for the overall business operations across Asia Pacific and Japan.
Before becoming XM Cyber's VPO, Zev Barkan spent over 30 years with the Israeli Intelligence Community. Mr. Barkan brings  managerial experience, leading technological and operational divisions, including areas such as cyber, IT and was in charge of the International Cooperation Division. Mr. Barkan holds a BA in Political Science and Management from the Open University, and a MA in Political Science from Bar Ilan University.
Zur Ulianitzky is an experienced information security researcher, skilled in red teaming and penetration testing. He has published groundbreaking research in the field of cloud security and red teaming with deep expertise in attack techniques from both an offensive and defensive perspective. Prior to joining XM Cyber, he served as an information security consultant at Ernst & Young. During his military service with the Israel Defense Forces, Zur served as a software engineer and team leader developing military communication products.  
An IT Infrastructure division manager with over 30 years of experience in the Israeli Intelligence Community, Shimon has led multi-disciplinary Information Technologies infrastructures in enterprise and complex secured organizations on-premises and in cloud.He is the Co-founder and CEO of Cyber Observer, the premier Cyber Security Continuous Controls Monitoring (CCM) platform. CCM reduces business losses and audit costs by leveraging technology that performs continuous monitoring and auditing, to deliver end-to-end Cyber Security posture management on-premises and in cloud. Shimon holds a B.Sc. in Computer Science.   
Software Manager with over 20 years of building and managing complex software system and organizational architectures, Moti served in the CTO office of the Israeli Intelligence Community, building and managing multi-disciplinary projects. He is the Co-founder and VP R&D of Cyber Observer, the premier Cyber Security Continuous Controls Monitoring (CCM) platform. CCM reduces business losses and audit costs by leveraging technology that performs continuous monitoring and auditing, to deliver end-to-end Cyber Security posture management on-premises and in cloud. Moti holds a B.Sc. in Computer Science.
Our values
CUSTOMER VALUE FIRST
Before all, the business goals and success of our customers come first. We create real transformation and insist on making a unique and meaningful impact that generates immediate results.
PASSION
Security is in our DNA; the cloud is our everyday life. Stopping attacks is what we do. Our motivation will always be driven by true passion to innovate and lead.
CONTINUOUS CARE
Since 2016, we're on a constant look out for our clients and partners to ensure their needs are being fulfilled.
EXECUTION EXCELLENCE
Patents, security certifications, awards, we are restless visionaries that strive to always be on top of our game.
INTEGRITY
In order to create great change, we believe a path of trust between us and our customers must be paved.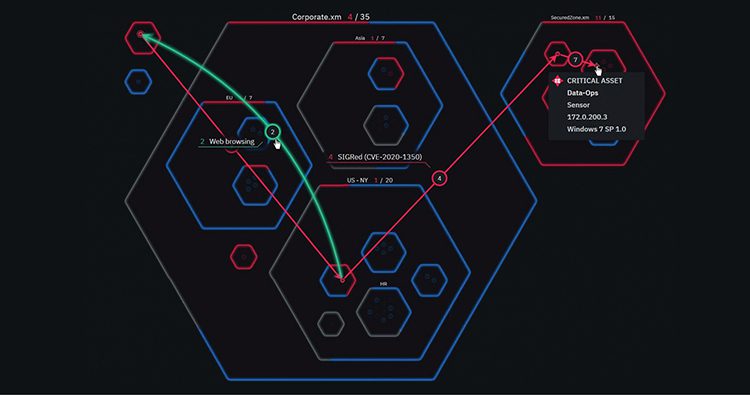 Find and fix the exposures that put your critical assets at risk with ultra-efficient remediation.
See what attackers see, so you can stop them from doing what attackers do.