Partner with XM Cyber
XM Cyber is committed to building a world-class network of technology providers, system integrators, managed services providers, and distributors who are ready to tackle the most challenging security problems.  XM Cyber provides a unique opportunity for partners to bring a valuable and innovative security solution to their end users. 
Become an XM Cyber partner
The XM Cyber partner program is designed to help you grow your business by aligning with an industry leader who is changing the way organizations approach their cyber risk. Your organization like many can receive enhanced profitability with XM Cyber's easy-to-deploy SaaS platform, subscription-based pricing model, and strong margins. Partners can easily and predictably grow their business, revenue, and customer base rapidly.
Our partner program
Why partner with XM
Commitment to partnership
XM Cyber's strong and growing partnership ecosystem includes incentives, enablement, and ongoing support from all levels of the XM Cyber organization to ensure consistent partnership opportunities. Our partner program includes many incentives for increasing sales, as well as a channel-friendly marketing and support processes. Through rich margins, predictable revenue models, and services alignment opportunities, XM Cyber is a solution that not only keeps your customers safe but allows you to differentiate your business from the competition. The key to a great business partnership is making sure everyone is focused on achieving the same goals. We take pride in our partner selection process and spend the extra effort working with new partners to guarantee mutual success.
Reliable deal protection
Increase your revenues and profitability with reliable deal protection. XM Cyber gives you multiple ways to engage your customers, gain new ones, and build revenues via sales and service offerings. With XM Cyber's online deal registration program you are locked in to be the only reseller who can close the deal and are guaranteed additional discounts on every deal registered. So what are you waiting for?
Product innovation
Whether you want to set apart your cyber security portfolio to include attack path and security controls technologies to easily understand and correct security posture on a continuous basis, or you want to build out your managed service offering, XM Cyber let's you see all the ways to customer success. With XM Cyber's market-leading Exposure Management Platform, security teams will be able to spot attacks before they happen and turn potential attacks into a dead end while closing gaps in their security controls before they are ever exploited. Level up your portfolio of capabilities and services to deliver your end customers the security they need across on-prem, cloud and SaaS.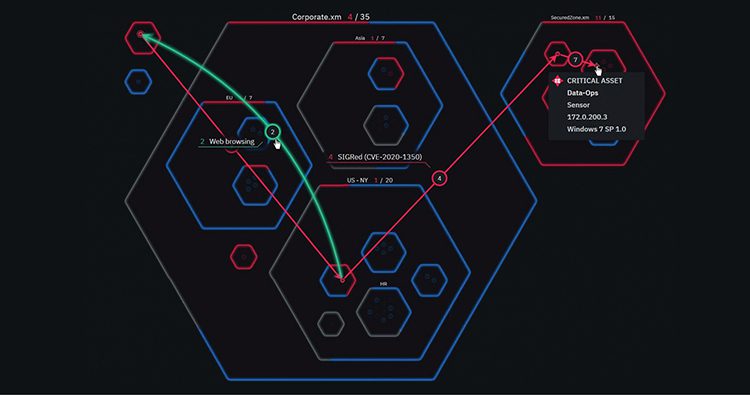 Reseller
As an XM Cyber reseller, you will become a vital part of the XM Cyber channel ecosystem. Our mutual customers rely upon their trusted reseller to provide focus and insight into the ever-growing, and sometimes confusing, security market. By partnering with XM Cyber, you will be able to provide your customers an innovative approach to today's dynamic threat landscape. Through rich margins, predictable revenue models, and services alignment opportunities, XM Cyber is a solution that not only keeps your customers safe but allows you to differentiate your business from the competition.
Distributor
As a distributor, partners assist in navigating high-stake opportunities in various regions around the globe by removing barriers to the sales process. As a distribution partner you will have the advantage of representing an innovative solution allowing you to expand your network of resellers within your given territory as well as add any additional services you feel will benefit your customer.
MSSP
Our MSSP program enables partners to utilize the capabilities of the XM Cyber platform to create a service led offering for your customers and create additional revenue streams through professional services and consulting . As a SaaS based multi-tenanted platform, new customers can be quickly onboarded to deliver fast time to value for your business and your customers. Our commercial model supports consumption based billing for total flexibility and simple administration with low overheads.
Global System Integrators
XM Cyber operates at enterprise-grade to support the most demanding and complex customer environments. Global System Integrators (GSI) partner with us to deliver additional value to existing customers and break into new accounts. Our extensive reporting creates opportunities for incremental revenue streams through additional security controls, remediation and consulting. XM Cyber's extensive integration capabilities ensures that it can be integrated with existing security tools to enrich vulnerability and attack path management processes and increase operational efficiency in SOC environments.
What our partners say
"By partnering with XM Cyber, we give customers the best tools available for understanding how a hacker would attempt to reach their most critical assets. It's a win-win-win for us all"
Erik Holmes
CEO of Cyber Guards
"We enjoy working with XM Cyber. They support partners very well and their product is in demand and delivering real benefits for our customers"
Stewart Grant
Partner Manager at Integrity360
"Being a security centric partner, we've seen many cool solutions and some vendors that are committed to solving the hard problems our customers face. With XM Cyber we have found a vendor that is driving unique innovation, is dedicated to help our customers and that is a strategic asset to our portfolio".
Oliver Oldach
Head Cyber Security & Analytics
"Swiss IT Group have a longstanding partnership with XM Cyber. Our consulting and managed service teams work closely with XM Cyber to help our customers increase their security posture, safely and continuously"
Heiner Luntz
Group COO & CEO Germany
Partnering for higher results
deal registrations result in closed business
of customers renew via a partner
of XM Cyber business is via the partner